When we talk about a BLAZER as opposed to a sport coat, we usually are making reference to a solid color jacket.

In years past a blazer was limited to either a simple, solid, dark navy or black wool jacket with the ubiquitous gold buttons.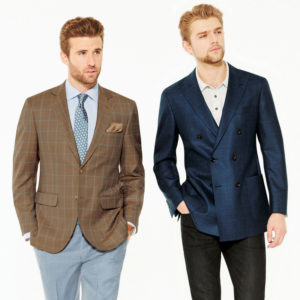 Today, and especially with made-to-measure, there are so many choices in individualizing the jacket to your taste.
In addition to the classic navy which every gentleman should have in his wardrobe, you can choose from an array of lighter and softer blues. Loro Piana themselves have over 25 solid blue colors to choose from. You can sort through diamond design, hopsack or frescos, in plain woolens or go to linen, cotton, silk or cashmere. Cashmere, which was always considered a winter fabric is now available in light weight 7.5 oz goods in a full array of colors. Perfect for a summer evening.
The "cut" of the jacket should, as with all properly fitting garments, be defined by what fits the unique dimensions of each person. Does the person have a modern slim body, a more "workout body" or a traditional body type and build? What image is he trying to portray?
As to the "design" of the jacket, add some personality by choosing patch or slanted pockets, peak lapels, pic stitch, working sleeve button holes to name just a few possibilities.
And yes, for the buttons, linings and threads, let your imagination and creativity run. Years ago the blazer was associated with gold buttons and navy or black interior (obviously depending on the color of the blazer). Today, there are leather buttons, dark brown, light brown and black buttons made from real horns (the most popular choice) as well as mother of pearl buttons.
Linings no longer are limited to solid colors. They come in an array of patterns including linings that can even match your favorite hobby, like golf, sailing etc. And adding a coordinating or contrasting thread to the buttonholes on the sleeve and/ or the jacket enhances the individuality of your blazer.
For those who travel, the real beauty of the blazer is its versatility. Pack your blazer with an exactly matching pair of pants, add two or three coordinating pants (basics would include gray or tan) and there you have it, a suit and three different ensembles for your trip.